This cold weather has me soup crazy lately. I only have one brothy (as opposed to chunky) soup recipe and I have been on the hunt for a new one.
I stumbled across this one on AllRecipes.com and oh my goodness it is delicious. I love cilantro so I add a bit extra. The only problem with this recipe is that it only serves 6 (or 4 in big bowls). Next time I make it (which will be soon) I'll be attempting to double the recipe. The original recipe was for "spicy" chicken soup but I don't find this soup spicy at all. It has maybe a little heat so I'm calling it "somewhat spicy."
Somewhat Spicy Chicken & Rice Soup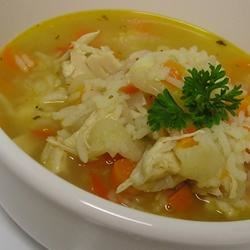 1 large chicken breast, cooked and cubed (I cubed mine then threw it in the food processor so I'd have shredded chicken)
2 celery ribs, chopped (I used food processor on all veggies since I don't like veggies and I was trying to disguise them a little)
2 medium carrots, chopped
1 medium green bell pepper, chopped
1 medium onion, chopped
1/2 tsp dried oregano
1/2 tsp salt
1/2 tsp pepper
1/2 tsp dried mustard
1/4 tsp ground cumin
1/4 tsp crushed red pepper flakes
6 cups water (or 6 cups chicken stock - omit bouillon cubes)
5 chicken bouillon cubes
1/2 cup uncooked long grain rice
1/4 cup minced fresh cilantro (I used 1/2 cup)
Cook your chicken (seasoned with salt & pepper; remove from pan and cube/shred. If you're using already cooked chicken (such as rotisserie) you'll just add the chicken later.
In same pan cook celery, carrots, green pepper, and onion in a little oil until veggies are tender. Add spices and cook for another minute.
Add water, bouillon cubes, rice, cilantro and cooked chicken. Bring to a boil. Reduce heat and simmer for 15-20 minutes (I followed the cooking time of the rice I used).
Yum!